To:

Carlisle City Council
Back the Vision for Carlisle Baths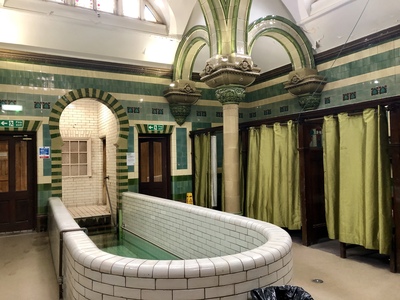 We call on Carlisle City Council to end the uncertainty about the future of the City's Victorian Style Turkish Baths, and back a Vision put forward by the Friends of Carlisle Victorian & Turkish Baths to retain and develop the Baths as a Centre for 'Health & Wellbeing'.
Why is this important?
They are a unique piece of Living Heritage
Opened in 1909 as an addition to the 1884 Public Baths, Carlisle Turkish Baths are one of only 12 original Victorian style Turkish Baths in Britain still operating, and the only ones remaining in the North West.
They are under threat
When new swimming pools open at Carlisle's main leisure centre in 2022, the Public Baths will close leaving the Turkish Baths on their own, and without a plan for their continued use. Operating alone it is unlikely that the Turkish Baths will survive.
Carlisle City Council who own the Turkish Baths say very few people use them & that there must be a business case if they are to be kept open. The Council have also commissioned a feasibility study to "consider a series of alternative functions" for the Baths.
The way forward
The Vision is to develop the original Baths & Turkish Baths building as a 'Health & Wellbeing' centre. The centre would use one of the existing pools as a hydrotherapy pool & the other as a leisure pool. There is also space in the building for a therapy & treatment rooms, other health related facilities and a bar & restaurant.
We propose that the site of the 1970s pool - due for demolition - is used to create a new city centre park. Breathing space and light into the area and providing an accessible play area, water features and an outdoor gym, and providing outdoor health and wellbeing facilities to complement the new centre.
Funding
As well as opening up a new main entrance to Carlisle Station at the rear of the Baths, the £20m Carlisle Station Gateway scheme includes £400k to 'patch-up' the Baths. We would like that money rolled into the Vision project, along with some of the £19.7m Town Centre funding Carlisle has won. Newcastle, Swindon & Harrogate all won Lottery Heritage Funding for their Turkish Baths, we believe Carlisle could do the same.