To:

WECA - West of England Combined Authority & BANES - Bath & North East Somerset Council
Install trams in Bristol, Bath & other UK cities to cut congestion, pollution and for regeneration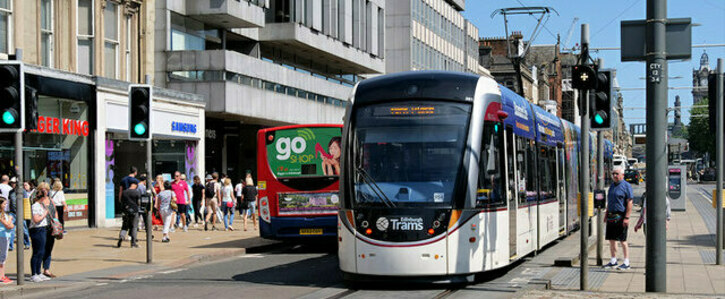 We want WECA undertake full unbiased feasibility and cost-benefit studies regarding the installation of trams (integrated with buses) within and interconnecting Bristol, Bath & Radstock, and on to Frome, Shepton Mallet, Wells etc (and all other non-tram cities), not a bus-only based service which provenly do not attract sufficient car drivers to cut congestion or pollution, have higher energy costs and cause low economic regeneration compared to tram cities. (But buses are great as rural services and tram feeders)
Why is this important?
Why is this important?
Small and large cities throughout the UK are being choked both environmentally and economically by car traffic. The only ones that have reversed this trend are those that have installed trams - Birmingham, Croydon, Edinburgh, Manchester, Newcastle, Nottingham, Sheffield, and the Docklands Light Railway.
Find out more about how buses and trams together cut congestion, pollution, emissions and revitalize cities - whereas buses on their own never have: https://tinyurl.com/54z4eeud.
Bath and Bristol Area Trams Association - BABATA - website: https://bathtrams.uk/ contains well referenced research which demonstrates the truth of all our statements, and which apply to almost any crowded British City.
Note: we are a friendly social group with regular meetings - please - join us as there are many small fun tasks that need doing to make this happen - could be writing a letter to the paper, or the WECA mayor, proofreading a letter or leaflet, keeping a Facebook post up to date, booking a social get together, or simply posting on social media, etc.
email us on [email protected] if you want to attend our regular Thursday fun meetings up stairs in a Bath Pub.
Our task is twofold:
1. to convince the West of England Combined Authority, WECA, Mayor which has the authority and ability to access the necessary capital. (And to assist other appropriate authorities in other non-tram cities)
(We understand very well the bureaucracy and politics that have to be negotiated to improve all transport, not just trams in our area).
Thus, we are pushing for the WECA mayor to take his ITA - Integrated Traffic Authority Powers as have e.g., Birmingham Manchester etc. which powers they have used to install their splendid tram systems.
2. To inform the inhabitants and national and local politicians of Bath, Bristol, Radstock and other areas nationally of the credible, proven reasons why trams must be reinstalled in all our cities allied with planning policies to locate all new buildings - offices and housing along tram lines;
Trams in town centres (but integrated with buses for peripheral and rural areas) work because enough previous car drivers will use the tram so it is not stalled by the previous car traffic. The reasons for this are:
People like the fact they are not crammed together staring at the back of someone's head.
Children etc. are not trapped next to strangers due to bench seating on a tram and can easily move around.
Ultra-rapid boarding and de-boarding - through multiple large doors, not possible on buses
Trams inherently are able to operate more frequently than buses for unalterable technical and economic reasons.
Are ultra-reliable.
Faster through traffic, in even through crowded narrow streets due to Green Wave Traffic Light Prioritization https://bathtrams.uk/green-wave-traffic-light-pre-emption-work-tram-coming-bathford-via-batheaston/ ( not generally applicable to buses).
Two tram cross town trips are acceptable, due to the low wait between connections and the reliability. This means parents will trust their children to trams.
Also:
Overall fare costs are cheaper than buses.
Have about 1/3 the lifecycle energy consumption of buses due to much lower rubber tire friction.
Have zero emissions, i.e. no toxic tyre dust due to steel wheels
Do not need separate segregated routes, i.e. share exact same road as cars.
And:
Trams can negotiate all the narrow streets and steep hills in Bath
There are systems which avoid having overhead wires
Bath is certainly not too small for trams - there are many cities much much smaller than Bath with trams, and we are talking about connections to Keynsham, Bristol and Radstock. https://bathtrams.uk/cities-with-small-population-tram-systems/
Bath And Bristol Area Trams Association meet every 2nd Thursday 2. Email [email protected] for details.
We have 3 tram supporters lists you may wish to join:
1. for members, absolutely no spam, just one monthly mail / newsletter to advise of meetings and events.
2. Local Bath and Bristol tram supporters - lots of chat about the issues pertaining to Bath and Bristol. Can be set to every email, or periodic summary.
3. National list for technical experts, those who want technical chat, or to know about national campaigning (we work closely with the national LRTA the Light Rail Transit Association https://www.lrta.org/). Can be set to every email, or periodic summary.
4. Very infrequent about 4 times a year list.
Email [email protected] advising of any lists you would like to be on.
How it will be delivered
To the West of England Combined Authority WECA Mayor and associated local and national politicians. We will have a press conference and mail them in person.