To:

High-street chains, cafes and take-away businesses
Get reusables back on the menu
We're ending the campaign because we were successful in getting all but one of the high-street chains listed to reverse their ban on reusable cups and containers. Mc Donalds is the only one still not accepting reusables and we have been in contact with them and are aware its because its global policy ATM so there is nothing we can do in the UK for now.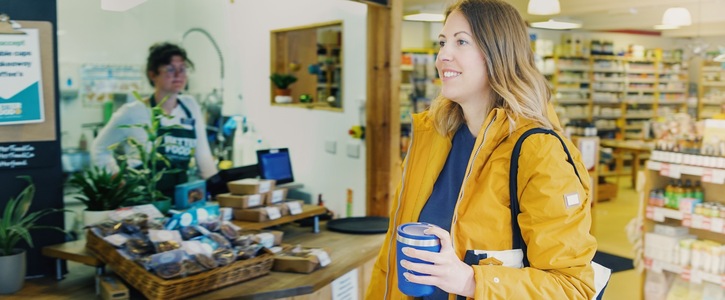 We're calling on high-street chains & businesses across the UK including Caffé Nero, Greggs and McDonald's, to start accepting reusable coffee cups, containers and water bottles again.
Why is this important?
We've seen a massive increase in plastic pollution since lockdown lifted and take-away packaging is a big part of the problem. Now is not the time to backtrack on single-use plastic. We need to build back better and create a new normal – one that values our resources and champions reuse over single-use.
Whilst we completely understand that this is a challenging time for many foodservice businesses, reusables CAN be used safely and accepting them doesn't have to be complicated – in fact, it can be super simple. Over 100 scientists have confirmed that reusables are safe to use, and at City to Sea, we've shared practical guidance for businesses to support them in accepting reusable cups and bottles. We can stay safe and look after the planet.
Pret, Starbucks and Costa Coffee, the UK's largest coffee chains, and a number of forward-thinking independent businesses have now started accepting reusables again and now Starbucks has followed their lead. We believe if Costa Coffee, Starbucks, and hundreds of planet-protecting independent businesses can do it, so can they!
These businesses make up a HUGE share of takeaway sales within the UK. By refusing to let their customers choose to reuse, they are contributing to a mountain of completely avoidable waste.
• In the UK, we make our way through an estimated 2.5 BILLION disposable coffee cups a year
• And over 7.7 BILLION plastic water bottles .
• The production of disposable coffee cups is responsible for the felling of a million trees a year,
• And uses around 1.5 BILLION litres of water, stripping our planet of precious natural resources at a time when we should be protecting it.
Want to do more?
1. Share this petition with your friends, family and everyone you know!
2. #ChoosetoReuse – carry your reusable bottle, cup and containers and tell the world that reusables are BACK and they are here to stay.
3. Download the free Refill app to find Refill Stations near you.
4. Celebrate the amazing, planet protecting businesses that ARE accepting reusables by showing them some love on social media and with your wallets. 😊
5. If you find a business that's NOT accepting refills, share @CitytoSea's #ContactlessCoffee campaign & @Refill water guidance to help them get on board. Tag them on social media & ask them to join the #RefillRevolution
This campaign is supported by :
- Break Free From Plastic
- Greenpeace UK
- Friends of the Earth
- Marine Conservation Society
- Surfers Against Sewage
- We Have The Power
- Everyday Plastic
- Green Goblet
- Muuse
- Unpackaged
- Conscious Cup
- Chilly's Bottles
- KeepCup
- Sustain
- Less Plastic
- Green Alliance
- Beach Guardian
How it will be delivered
We'll be using this petition to engage with the big chains and the food to go sector to let them know that their customers still want to see action to tackle single-use plastic. We know from experience that petitions work. Businesses listen to what their customers want and together we can create a wave of change.