To:

The Rt Hon Grant Shapps MP, Secretary of State for Transport, London Borough of Ealing, Transport for London, Network Rail
Make Castle Bar Park Station Footbridge accessible to All!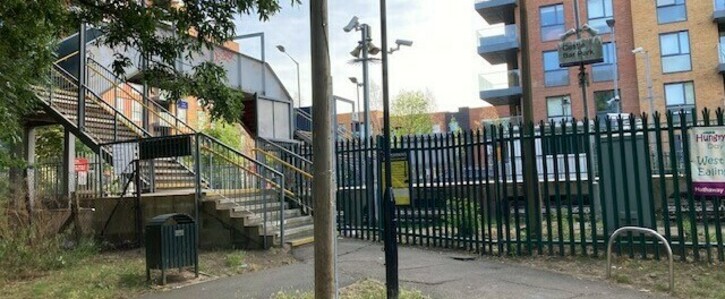 The existing footbridge is in a state of disrepair and inaccessible for a large number of local people.
The footbridge is important to 1000s of local people because it is a vital link for surrounding neighbourhoods to take their children to 7 schools, 4 nurseries, get to work, access Castle Bar Park (CBP) station, access shops, get to Hanwell Community Centre, get to Hathaway childrens centre, get to leisure and sporting facilities.
I would like the footbridge to be made safe and more accessible to local people. I have started this petition in order to get this done.
Suggested Tasks for relevant parties (to whom petition is addressed) :
1.Upgrade / rebuild station footbridge to safe accessible standard and make this crossing inclusive of more local people with disabilities
2.Wider sweep of steps from the station area on both sides, improving east-west permeability
3.Relieve pressure on other routes and allow better traffic circulation (by foot, car journeys, cycling, public transport)
4.Provide easy access on foot and by cycle
5.Good connectivity is key to the success of the area. We need an attractive station with easy access.
6.Add footway (ramp?) provision to the East station approach
7.Safe pedestrian crossing (across road) outside Ipswich Court/Copley Close station
Why is this important?
I started this petition, having researched a prior unsuccessful petition by the UK government between 2010-2015. Circumstances and environment around the station have changed since, ie there are many more users of the footbridge, hence a new approach to the petition is required, ie we need to create awareness and spread the word.
I use the footbridge to cross from West to East with my 19-month-old and our pushchair. He is walking, but still needs guidance up and down steps. I also have to keep hold of his hand, as he is tempted to jump and run and whizz around.
The dilemma I have is, that I must also carry our pushchair across. There is no choice of carrying one or the other across, so we have to make our way across together. I carry the pushchair on my shoulder, while holding on to my son's hand /harness (trusting him to hold onto the banister that is really too high for him) and holding onto the banister myself in order to steady myself.
Some days I am assisted by a friendly person, a parent, a mum, a runner, a train passenger, who all offer to carry my pushchair across. It is exhausting to try and do this journey every day, twice a day, 5 days a week and more.
I do see other people struggling across the bridge with other items, shopping bags (or wheelie shopping baskets), bicycles, scooters etc.
The footbridge and one platform are not accessible to wheelchair users (apart from the platform serving trains from Castle Bar Park to West Ealing). That excludes anyone wishing to travel to West Ealing to connect to the Elizabeth Line and any destination beyond.
PLEASE SIGN NOW.....or read on for FURTHER INFORMATION:
Review footbridge structure for these reasons:
1. Volume of traffic for footbridge - based on local facilities
2. Condition of footbridge
3. Available funds
4. Design criteria for footbridges
RE 1. Facilities nearby provide an idea of potential volume:
Schools, nurseries, childrens centre close by; -
West of tracks:
https://www.lyceefrancais.org.uk/apprendre/primaire/andre-malraux/ - Approx 200 pupils
Brentside Primary Academy & High School - awaiting pupil stats
Cybertots at Copley Close - Cybertots Children's Nursery at Copley Close Hanwell - awaiting figures
East of tracks:
Childrens centre (Health Visitors, childrens playgroups, Community midwife base) – https://www.ealingfamiliesdirectory.org.uk/kb5/ealing/directory/service.page?id=A7GujkfYsJ0 – up to 475 families attending pcm
Hungry Caterpillar Nursery Hathaway (West Ealing) - https://hungrycaterpillars.co.uk/nurseries-in-west-ealing/ - up to 30 children
Woodlands Academy – https://www.woodlands.ealing.sch.uk/ - Over 110 pupils
Castlebar School - https://www.castlebar.ealing.sch.uk/ - A special school for children aged 4-11, catering for children with complex learning difficulties including autism and other sensory impairments. Over 160 pupils
North Ealing Primary School - https://www.northealingprimary.org/ - Over 700 pupils
Happy Todds Clubhouse (nursery) - https://www.happytodds.co.uk/clubhouse/ - up to 22 children
Apple Montessori nursery within grounds of Ealing Trailfinders - https://applemontessorilondon.co.uk/ - up to 35 children
Notting Hill & Ealing High School - Home - Notting Hill and Ealing High School (gdst.net) – Over 900 pupils
Leisure & sporting facilities:
Ealing Trailfinders Rugby Club – Fixtures and Results (ealingtrailfinders.com) - capacity for 4,000 spectators, 2,200 seats with 32 fixtures planned for the current season 2022-2023.
Hanwell Community Centre – The rooms vary in size and accommodate 20-50 people. awaiting information on visitor numbers pcm
Hanwell Zoo – awaiting information on visitor numbers pcm
Several parks and greens serve the area, on both sides of the tracks. For example Brent Valley Park, Brent Lodge Park, Pitshanger Park, Cleveland Park, Cuckoo Park; including the sports facilities available within these parks (Pitshanger FC Clubhouse, Will to Win, Drayton Manor Playing Field, Ealing Hanwellians Cricket Club etc.)
RE 2. State and condition of the footbridge
All of the treads are worn and uneven.
Some of the nosing (tip of the stair) is either worn or has fallen off
Backs of stairs are either rusty or one of them has come away and there is no back
Structure is uneven.
Structure is unsafe and has a temporary fix.
Stairs only for East station approach.
Ramp access for West station approach.
No colour contrast or bubble pavement at the bottom of the stairs of station approach, only for footbridge platform to platform.
RE 3. Available funds
The recent Building Developments in the area and immediate vicinity (Alton Court by copleyhanwellw7.co.uk and Ipswich Court by copleyhanwellw7.co.uk) would have contributed a Community Infrastructure Level to the local council (EBC). They would have qualified for CIL and in turn this levy payment would have presented EBC with reasons and means to review transport and other factors in the area and spend the levy according to what is needed. This footbridge and the general surrounding infrastructure have been ignored.
RE 4. Design criteria for footbridges (CD353), Highway Structures & Bridges Design
Present condition and structure of footbridge do not match standards.
Status: 20/07/2022 - additional info and corrections
How it will be delivered
Person to person with station users, users of the footbridge
FB, email via 38degrees platform, email Schools, nurseries, surrounding leisure/sporting facilities
Addressing the Petition: The Rt Hon Grant Shapps MP, EBC Cabinet Cllr Deirdre Costigan [email protected], Cllr Aysha Raza [email protected], Mr James Murray MP [email protected]
Requesting support from local Councillors: Cllr Louise Brett [email protected], Cllr Claire Tighe [email protected], Cllr Ray Wall