To:

Manchester City Council
Prioritise People not Cars. Please Pedestrianise Deansgate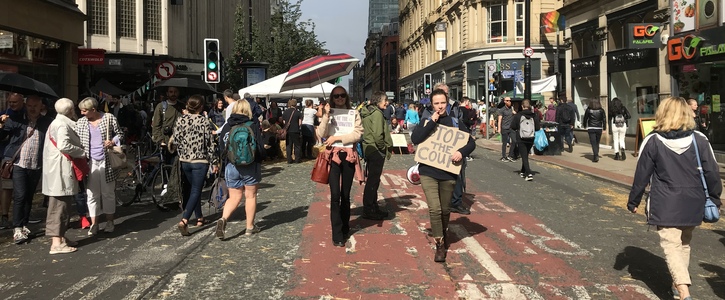 We call on Manchester City Council to pedestrianise the city's showpiece shopping street of Deansgate.
The historic street is one of the most polluted in the city with illegal levels of toxic emissions from vehicles.
The street is regularly closed to traffic for almost a dozen events each year - from Manchester Pride to sporting events and other parades.
We call on the council to go the whole hog and close it to traffic* all year round and make it the living, breathing, vibrant street it wants to be!
👟👣🚸♿️🛴🚲 ✅ 🔜 🚗+⛔️=😁
Why is this important?
Manchester is one of the most polluted cities in the UK, with approximately 1200 people a year here dying prematurely due to air pollution.
We need to drastically reduce carbon emissions too.
One way to solve both of these issues - is to turn our city centres into more people-friendly spaces.
Places where people can walk more freely, breathe more easily and spend the day more enjoyably with their family.
It's good for businesses too - footfall would increase greatly with greater space and infrastructure for people on foot, disability scooter or bike.
And it would link up other pedestrianised parts of the city - eg imagine being able to walk from the Arndale Shopping Centre through St Anne's Square onto Deansgate and into Spinningfields ..without having to dodge a car once.
Imagine how nice it would be to move along the width of the street not squished into the tiny pavements battered by the noise of vehicles crawling through the traffic lights.
Imagine the café tables, the plants and the benches. The peace and the quiet.
Come on Manchester - follow up those fine words with deeds.
People not Cars!
* The word pedestrianised is used as shorthand to mean closed to routine vehicle traffic. The street should be open to pedestrians, especially people using mobility aids, and push bikes, but with clear segregation to make it safe for all. Some delivery access may also be required at times as in other major city pedestrianised streets.