To:

The BBC
Reinstate Gary Lineker to Match of the Day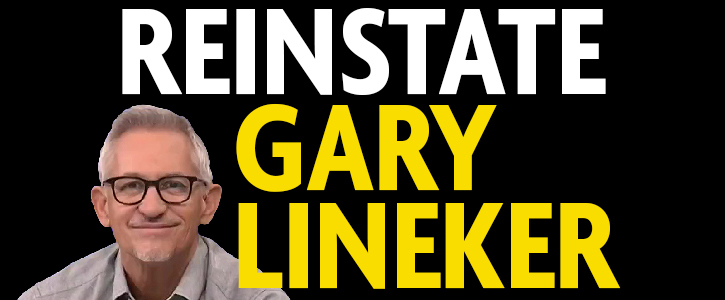 Gary Lineker has been forced to step back from presenting Match of the Day after tweeting critically about the government's migrant policy.
As a freelance sports presenter, Mr Lineker should be able to share his personal views on current affairs.
Many other BBC faces have posted controversial opinions on social media without sanction.
Meanwhile, the BBC chair Richard Sharp remains in post - despite helping to arrange an £800,000 loan for the former Tory Prime Minister Boris Johnson while he was applying for his job.
The Mirror believes Mr Lineker should be able to return to our screens as soon as possible.
Why is this important?
Outside the headquarters of the BBC in London is a statue of the writer George Orwell.
It bears the words: "If liberty means anything at all, it means the right to tell people what they don't want to hear."
In a series of tweets Gary Lineker did just that. He told the Government that its policies to tackle illegal migration were inhumane and cruel.
Rather than accept the freelance sports presenter was speaking from a position of genuine compassion, right-wing MPs immediately called for him to be removed from the BBC.
The broadcaster should have stood up to this baying mob.
If it values free speech and, above all, if it values its independence it should have defended Lineker's right to voice views which may be unpalatable to others.
The BBC has undermined its own reputation for impartiality by caving into the demands of the right-wing press and loudmouth Tory MPs.
To take Lineker off air is not only craven but hypocritical. The BBC chairman, Richard Sharp, remains in place despite helping facilitate a loan guarantee for Boris Johnson.
Other presenters have not been silenced despite airing right-wing views.
The Mirror has launched a petition calling for Lineker to be reinstated. We urge anyone who values liberty and free speech to sign it.