To:

BARNET COUNCIL AND MAYOR OF LONDON: Please Listen
SAVE EDGWARE NOW!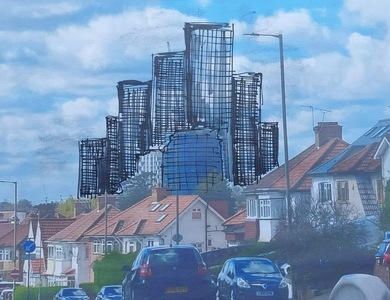 THE PROBLEM:

The proposal to build over the Broadwalk Shopping Centre is being dressed up as regeneration and redevelopment. In reality this proposal is not redevelopment it is GROSS OVER-DEVELOPMENT leading in all likelihood not to regeneration but to degeneration.

Background

Barnet Council decided a few years ago that because Edgware Town Centre benefited from good 'bus and tube links, that it was suitable for major high-density redevelopment and decided they would approve, in principle, buildings up to 30 storeys tall - which is more than double the height of Premier House (the current tallest building in Edgware) and almost double that of Premier Place (under construction). This was done at the height of Covid and the online consultation reached 160 people! Hardly comprehensive for such a dramatic change to our Town Centre.

With this new planning guidance in place, Irish-based developer Ballymore have purchased the Broadwalk Shopping Centre together with the car park to the rear, which was originally intended as free parking for residents and shoppers to access the shops and facilities of Edgware Town Centre. Ballymore have got together with the London Mayor's transport arm, TfL, who, locals will recall, wanted to build tall blocks of flats on the commuter car parks that serve Stanmore and Canons Park tube stations (among others).

Now TfL are saying they want to convert the existing 'bus fleet that works out of Edgware from diesel power to electric power because air pollution in Station Road is very bad. This programme will be very expensive, and for this reason, they need to see a hugely dense development of Edgware Town Centre to give them the revenues they want. Given that TfL have been haemorrhaging money in recent years, the more cynical might think that the over-development of Edgware Town Centre is being used as a cash-cow. Anyway, the current proposals, once accepted by Barnet Council, would have the following effects:

Shopping

All the shops in the Broadwalk Centre, and the surface car park would be swept away. Whilst a new (replacement) Sainsburys is proposed this will have the dubious convenience of escalator-linked underground car parking, for those who presently do the weekly shop there. To be fair, the developers say they are proposing to replace the shopping facilities that will be lost with a similar amount of new shops, and restaurants, but as the new Town Square around which the proposed new shops and cafés are to be arranged, will not be open until Year 5 of the construction programme, it remains to be seen whether the proposed replacement shops will actually happen or will become a discarded aspiration, especially if the almost total loss of car parking causes many businesses in Station Road to go bust, giving the developers the argument that – with so many shuttered shops in Edgware already, what is the point of building more?
Why is this important?
WHY THIS IS IMPORTANT TO EDGWARE RESIDENTS AND VISITORS:

Why Edgware?

Edgware has been chosen by Barnet Council for the vast bulk of the Mayor's requirement for new residential development in Barnet Borough, allowing towns like Finchley, Golders Green, Hendon and Barnet itself with nothing like as onerous targets.

Flats

The majority of the redevelopment of Edgware Town Centre will be concentrated in new residential towers. A total of 19 or 20 new towers are proposed including those of up to 29 floors, with most being between 20 and 25 floors, and even the lower buildings are proposed at up to 14 floors. The proposal is for about 3,800 new units (including 460 student units) and this could be expected to house 7,000 people ( Ballymore's estimate that we think unlikely) to 12,500 people ( suggested by Barnet Councillor Lucy Wakeley and not denied by Ballymore) to maybe even 15,000 people. To put this in context, this will more than double the number of people that live within reasonable walking distance of Edgware Town Centre and hence double the demand for doctor's surgeries, school places, dentists, etc. etc. Precious little in the form of this essential Town infrastructure is being proposed to be provided, which can only have a hugely damaging effect on the availability of these essential services to existing residents.

Parking

The land which is to be redeveloped presently provides 1035 car parking spaces, including a 275-space dedicated commuter car park for those that drive to Edgware tube to continue their journey into Town on the Northern line, and also of course the priceless facility for those who need or want to drive into Edgware Town Centre for its current shops and facilities. Again, this is to be almost entirely swept away and replaced, we are told, by a total of 764 spaces, of which 250 spaces will be servicing Sainsburys (in itself, probably insufficient for a full-size food superstore) AND the remaining replacement shops and cafés in the Town Centre (if they are ever built). The other 514 spaces would be in a substantially less convenient Multi-Storey car park.

Now we are told that it is currently a matter of negotiation with Barnet Council and other bodies as to the allocation of the remaining 514 spaces between the competing demands of the new residents, the daily commuters and existing local residents who want or need to drive to their Town Centre.

The developers argue that because it is a Town Centre development almost none of the new residents will want or need a car, or even a visitors' space, but even if that were substantially true, and a car was used by only one person per 10 flats, this will still imply 340 residents' spaces (including about 100 spaces deemed necessary for disabled blue-badge-holders), taking up almost all of the meagre replacement parking leaving just 175 spaces for the commuters (in itself a reduction of 35% of the numbers they presently have) and nothing at all for local residents driving to the Town Centre, and so, predictably, are therefore very likely to be denied access to the new Multi-Storey car park.

Timing

Because of the huge scale of the proposed development, it is estimated that this development could take TEN YEARS to complete. Imagine that – 10 years of disruption, diversions, mess and misery swamping our Town Centre. How many residents wouldn't be able to face this and prefer to move somewhere else – that is if they could find someone willing to buy their house and put up with all this!

Summary

If Barnet Council decide to grant planning permission for this development proposal, which is at a density far in excess of what they have already permitted in Colindale in recent years, and it does indeed go ahead, the suburban character of Central Edgware will be lost forever, and instead replaced with a mini-Manhattan, no doubt at great profit to the developers, but at huge cost to the standard of living of local residents.

Action

What can be done about this then? Sign this petition below!
We need Barnet Council and the Mayor for London to be convinced that these proposals are in fact a gross overdevelopment, totally out of keeping with the character of Edgware and the maximum they should permit here is a development of about a quarter of this density, whilst insisting that the shopping facilities are replaced, that there is more parking, and provision of the necessary supporting infrastructure including schools, doctor's surgeries, etc. and with buildings considerably lower than those proposed.

If we can get enough signatures on this petition, then hopefully it will become clear to Barnet Council and the Mayor of London that the local-residents despise what is proposed and if The Council still chooses to ride roughshod over local residents' wishes, then they will see the results at the ballot box at the next election.