To:

Dorset Clinical Commissioning Group
Save Swanage Ambulance Car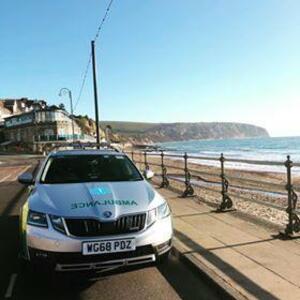 Maintain the Swanage & Purbeck Ambulance Car
Why is this important?
We understand that the Swanage based Ambulance Car could be withdrawn in June. We were shocked to hear that there were plans to withdraw the Car on April 1st. Following Councillors meeting with the Ambulance Trust and lobbying Dorset Council Health Scrutiny, and the Town Council writing to the Ambulance Trust and the Clinical Commissioning Group, we were told the car would remain for two months, and the situation would be reviewed in June.
We had previously understood that under the Clinical Services Review ambulance resources allocated to Swanage would actually be increased.
We must keep the Swanage Ambulance Car and our excellent Paramedics. The Car is a Rapid Response Vehicle - a fast car - based at Swanage, and covering Purbeck. Unlike the regular Swanage Ambulance, which can be outside Purbeck all day, the Car does not take patients to hospital, and the agreement was that the Car would remain in Purbeck, unless there was a major emergency.
Therefore, as well being part of our Ambulance resources, this fast Car is much more likely to get to us quickly in an emergency. The Car supports the health of Swanage and Purbeck residents, and, crucially, helps save our lives.
We've been told that Ambulance resources at Wareham have increased. However, there may not be an Ambulance in Wareham (or in Purbeck) at the time one is needed in Swanage and villages, and, in any case, it's impossible to get from Wareham to Swanage in 8 minutes, which is the target time for a category 1 (imminent danger of death) emergency.
The Ambulance Car was first allocated to Swanage as compensation for the overnight closure of the Swanage Cottage Hospital Minor Injuries Unit, back in 2008. There was recognition at that time that it was a long way to Poole from Swanage, and there needed to be overnight support here. Under the Clinical Services Review, emergency care will no longer be provided at Poole, and we will have even further to travel to access A&E, Maternity and Children's care.
The Swanage and Purbeck Ambulance Car + Paramedic:
i) provides a rapid response (as nearer and faster) to save life in emergency pending arrival of the ambulance
Ii) treats the 50% of patients who do not need to go to hospital at the scene, avoiding unnecessary journeys to Poole, and protecting hospital resources
Iii) provides a replacement service when the Swanage Minor Injuries Unit is closed (8pm - 8am).
iv) supports Purbeck GP home visits, helping to ensure that these are covered. Indeed we believe that the Purbeck GP's are open to looking at making a contribution towards retaining the Ambulance Car.
It is a matter of life and death for us to retain this essential service.
/Users/Mel1/Desktop/Swange Amb Car.jpg