To:

Haringey Council
Save The Warehouses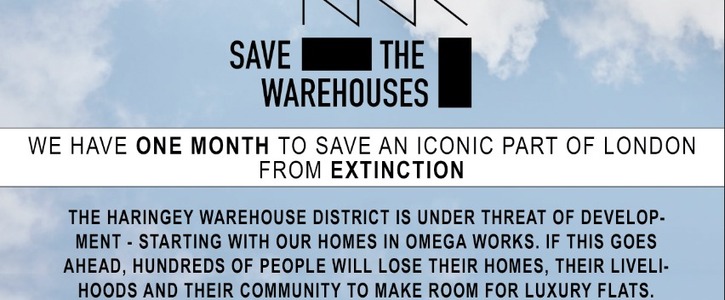 Developers plan to tear down our homes to build luxury flats under the guise of 'warehouse-inspired living'.
The creative, close-knit community of Omega Works rely on these spaces for affordable, safe housing.
The developers say their plans are for 'the benefit of the community', but they've ignored residents. During the cost of living crisis, they will make over 100 vulnerable people homeless, all in the name of profit.
STOP THE DEVELOPMENT OF THE OMEGA WORKS WAREHOUSES.
RECOGNISE AND PROTECT OUR COMMUNITY.
TELL THE COUNCIL TO WORK WITH RESIDENTS TO KEEP LONDON'S ICONIC SPACES AND THE PEOPLE WHO CREATE THEM SAFE.
Why is this important?
OMEGA WORKS WAREHOUSE COMMUNITY IS UNDER THREAT AND WE NEED YOUR SUPPORT!
Haringey Warehouse District, also known locally as Manor House Warehouses, is a former industrial site in South Tottenham that has, over the past 20 years, been converted into live and work spaces by artists, makers, performers and alternative community advocates.
Hundreds of residents are drawn here because of the cohesive community living, affordable housing, creative space and opportunity for collaboration. These warehouse spaces have been steadily transformed by the creative inhabitants, becoming unique art spaces that host community events and have, for the last two decades, become an iconic fixture in London and unique in the world.
We live and work in Omega Works, one of the main warehouse complexes on Hermitage Road, N4. The site has a rich and interesting history; from its birth as a piano factory in the 1930s, which built (at one point) the largest piano on Earth!, these warehouse spaces are now home to a thriving community of over 100+ residents and businesses. Here, we look after each other; our neighbourhood relationships are incredibly strong and provide a support network for a diverse group of under-represented and under-resourced people to cohabitate, collaborate and create real community. At Omega, there is always someone you can 'borrow a cup of sugar' from. We also contribute back to the local economy and rich cultural history of the area; in our spaces we host accessible gigs, workshops and exhibitions, fundraise for charity, and hold activist meetings for social justice issues. Omega is home to a screen printing business, a martial arts school, a kitchen, a photography studio, and SNAP! recording studio, whose clients include icons such as Kate Bush, Stormzy and Coldplay. The connections Omega Works nurtures among its inhabitants and into the area beyond are innumerable, and we contribute so much to the cultural offering to Haringey and North London as a whole.
Our home, Omega Works, has now been targeted for redevelopment. The proposed plan would see the existing structure demolished to make way for new build flats. This would mean that everyone who lives and works here will lose their homes and livelihoods, and cause the extinction of a vibrant, diverse and close knit community. Not only would these new builds put considerable strain on the existing residential infrastructure and services of the area, but these new flats are will see a minimum 25% increase in rent, meaning that the displaced creatives and businesses will be priced out and completely lost from the area.
If we let these spaces be destroyed, they will be lost forever, and with them the incredible value they contribute to the local economy, cultural history, and community of London.
We want to STOP THIS DEVELOPMENT! We want to protect our community and way of life from extinction, and have the Haringey Warehouse Community recognised as a site unique to not only Haringey, but to London and the world.
Please lend your support to SAVE THE WAREHOUSES, and help to keep North London's creative ecology growing and thriving.
For more information about Save The Warehouses visit www.savethewarehouses.org and follow our socials @savethewarehouses on Facebook and Instagram.
To see some of the unique spaces in Omega Works, check out 3K Art House on Instagram @3Karthouse