To:

Michael Gove, The Secretary of State for Housing, Communities and Local Government and MP Gillian Keegan,
STOP THE URBANISATION OF THE MANHOOD PENINSULA AND THE HARBOUR VILLAGES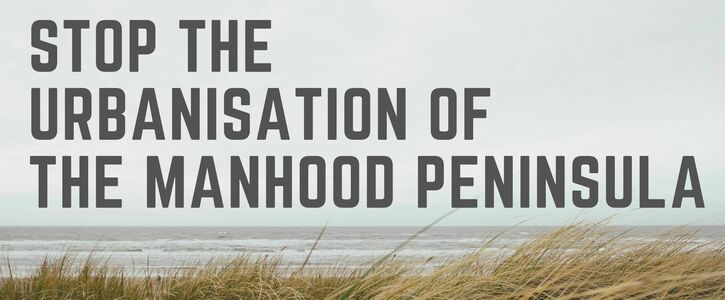 Reduce housing targets on the Manhood Peninsula and coastal villages
and build legitimate, affordable housing.
Why is this important?
Why is this important?
Due to 74% of Chichester District Councils land being in the South Downs National Park or AONB areas which are protected against development - this leaves the coastal plain and the rural villages of the Manhood Peninsula and around the Chichester Harbour AONB, targeted to be overloaded with excessive numbers of new houses, with no adequate roads or sewage infrastructure to support them.
The current system for providing affordable housing does not work.
Developers are building houses that are not affordable.
The Manhood Peninsula and the coastal and harbour villages to the west are the last undeveloped coastal hinterlands between Southampton and Brighton. These areas are mainly agricultural and of inestimable public value for food supply security, to protect the natural environment, to ensure adequate wildlife corridors and to support businesses involved in the rapidly growing green tourism sector.
The Manhood Peninsula contains some of the South's most important wetlands at Pagham Harbour and Medmerry and is one of the most vulnerable stretches of coastline when it comes to protecting us from future climate change impacts. The green spaces and fields between the villages to the west of Chichester and around Chichester Harbour are essential resources for wildlife and leisure activities.
Long term holistic planning is critical to our environmental and economic future.
The Government and District Council need to re-evaluate the housing numbers for the whole District before development devastates the unique and beautiful areas and villages that people choose to visit and value for their rural nature.
How it will be delivered
We have invited Gove and Keegan plus local and national press to receive our petition at
THE MARCH FOR MANHOOD AND THE HARBOUR VILLAGES on January 29th.
Please join us to peacefully demonstrate and present our petition for government.
Saturday January 29th, 10 - 11am
Please share with friends and family, everyone is welcome.
For more information on the march visit
https://themarchformanhood.org
.