To:

Moderator of the Church of Scotland General Assembly
Church Of Scotland: Stop investing in fossil fuels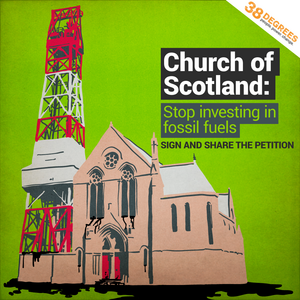 As it is immoral for the Church to invest in climate disaster we call on the Church of Scotland to freeze investment in fossil fuels and divest as soon as possible.
Why is this important?
The Church has a commitment to justice for the poor who are already suffering the worst effects of climate change and have done little to cause it. More frequent and intense hurricanes and flooding, longer and more frequent droughts and sea-level rise is already a reality that millions face across the globe, especially in the developing world. Climate changing is having a negative impact on food security leading to famine and conflict. In addition to the thousands of fatalities caused by these climate disasters many more people are forced from their homes.
We accept the science that climate change is being driven by human emissions of greenhouse gases such as carbon dioxide. We acknowledge that this is primarily caused by the burning of fossil fuels. We accept, as has been internationally agreed, global temperature rise should be limited to less than 2°C to avert the worst impacts of climate change. The fossil fuel companies have 5 times more coal, oil and gas in their reserves than we can safely burn and stay below 2°C global temperature rise. If no action is taken then these reserves will be burnt and the resulting climate change will be catastrophic. We must keep the oil in the soil, the coal in the hole and the gas beneath the grass. The church should take a moral stand and withdraw its investment from the fossil fuel industry.