To:

Strathclyde Partnership for Transport
Fair Fares Now! Tell SPT to cut bus fares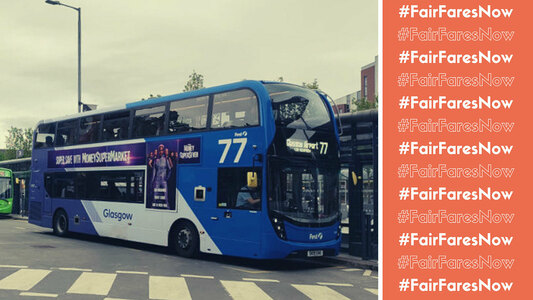 Why is this important?
Around half of Glaswegians don't have access to a car – one of the lowest rates of car ownership in Scotland. Thousands of people rely on public transport to get around, whether it's getting to work or going out for a night in the town. Mobility is essential to access opportunities and support businesses across Glasgow, yet increased fares will push many more passengers into transport poverty.
https://www.getglasgowmoving.org/content/wp-content/uploads/2022/07/fairfaresnow-header2.png
What can be done?
Our regional transport authority, Strathclyde Partnership for Transport (SPT), has new powers to re-regulate all bus companies in the region, similar to what happens in London and Manchester. SPT could also set-up a new publicly-owned bus company for our region, like in Edinburgh and Cardiff.
We're calling on SPT to use the powers at their disposal to re-regulate bus services across Glasgow and the wider Strathclyde region so they can cut our fares to bring us in-line with other cities. This will also mean we can have one simple ticket that works across all transport modes, and caps fares to ensure passengers with connections are not penalised. This could work just like the Oyster card in London.
It's vital that SPT uses these powers to address transport poverty and reduce the impact of the cost-of-living crisis on passengers now. High bus fares and poor services are pushing passengers away from public transport. If we are serious about addressing the climate emergency then our region needs to develop a public transport network that is fit for the 21st century.
#LoveMyBus #FairFaresNow
References for UK Bus Fares:
London - £1.65 flat fare (fully-regulated by Transport for London)
https://tfl.gov.uk/campaign/new-fares
Manchester - £2.00 flat fare (when fully-regulated by Transport for Greater Manchester by 2024)
https://www.theguardian.com/uk-news/2022/mar/14/andy-burnham-cap-greater-manchester-bus-fares-2-pounds
Cardiff - £2.00 flat fare (Cardiff Bus is publicly-owned by Cardiff Council) https://www.cardiffbus.com/on-the-bus-fares
Edinburgh - £1.80 flat fare (Lothian Buses is publicly-owned by Edinburgh Council 91%, Midlothian Council 5%, East Lothian Council 3% and West Lothian Council 1%)
https://www.lothianbuses.com/tickets
Glasgow - £2.65 (First Bus is privatised & deregulated)
https://www.firstbus.co.uk/greater-glasgow/tickets/changes-our-fares
First's website is deliberately misleading. Although it states tickets are "from £1.80", if you want to travel more than two stops the fare is £2.65 and far more expensive if you need to travel beyond the city boundary into the surrounding region.
How it will be delivered