To:

Medway Council
Justice for Paul Dennis Rainham North Medway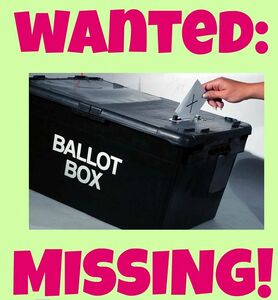 Re-Count Rainham North Ballot Papers and Find the Missing Votes!
Why is this important?
Medway Council Loses Ballots!
We've spoken & written to Medway Council, had Local and National Media Coverage including ITV Meridian News but still they refuse to look into this.
Outraged local election candidate, Paul Dennis, has polled an impossible zero votes in Rainham North. Standing for the Trade Unionist and Socialist Coalition (TUSC), Mr Dennis and his supporters demand justice from Medway Council following this clearly invalid result. TUSC's average vote across the constituency was 229 per ward. However, Returning Officer Neil Davies and Deputy Richard Hicks ruled out a re-count.
Local train conductor Paul Dennis said: "This is impossible. The result sticks out like a sore thumb. I know people who have voted for me. I live in the ward and definitely voted for myself! Since the result was announced others have been on touch to say they also voted for me. So why have our votes not been counted? The council needs to answer this."
Overworked staff didn't finish counting the General Election results for the Rochester & Strood, Chatham & Aylesford and Gillingham & Rainham constituencies until 09:30 on 8th May. Returning Officer Neil Davies demanded counters return just five and a half hours later to resume for the local elections.
Mr Dennis' agent, Alec Price said: "We're an anti-austerity party and it appears Medway Council's austerity policies have disenfranchised every TUSC voter in Rainham North. By overstretching staff at a chaotic count, Medway Council have failed in their fundamental duty to ensure that every vote counts. This raises serious questions about the democratic process. No-one knows how many ballots have not been counted".
This does not just affect TUSC however, if Paul is missing his votes who else might be missing theirs?
How it will be delivered
Deliver them in person & email as well as contact local media.