To:

Michael Matheson MSP, Minister for Transport of the Scottish Government
Public Ownership of Scotland's Railway

Bring Back British Rail
On 17 March 2021, Transport Secretary Michael Matheson finally announced that the ScotRail franchise will be brought back into public ownership from 1 April 2022, when Abellio's contract ends.
Thanks to everyone who signed our petition, first launched the day after the Independence Referendum in September 2014. It has been a long fight, but we did it!!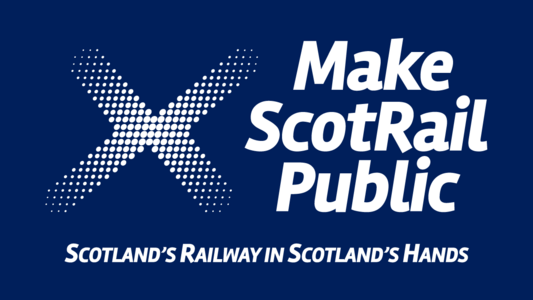 Dear Minister,
We demand that, in order to create a fully-integrated, efficient and affordable public transport system that provides a real green alternative to car travel, the Scottish Government must reverse the injustices caused by privatisation (buses in 1986 and railways in 1994) and return Scotland's public transport to Public Ownership.
Why is this important?
Public transport is an essential public service. It facilitates the smooth running of our local and national economies, it helps cut the carbon emissions caused by car travel, and it enables everyone to participate in our society – to visit friends and family, to attend appointments, events or go shopping – without need or aspiration to own a car. Improving our public transport is the answer to many of the huge problems our country faces: the climate emergency, persistent poverty and social isolation and toxic air pollution.
Yet for more than thirty years, the privatisation of public transport has seen services deteriorate and fares continue to rise above inflation so that it is now unaffordable and impractical for many. Public subsidy has increased, yet the inefficiencies caused by privatisation (profit extraction, admin duplication and increased legal and borrowing costs) mean passengers are also having to pay more. Money which should have be spent on expanding and improving the network has been allowed to leak out. Communities have been left isolated, car ownership has risen and it's the poorest in our society who have suffered the most.
This campaign was first launched in the wake of the Referendum on Independence in September 2014 to demand new powers over the Public Ownership of Scotland's Railway, as the backbone to a fully-integrated, efficient and affordable public transport system fit for the 21st century. These powers were then granted in the Scotland Act 2016, allowing a public sector operator to take over the ScotRail franchise for the first time since the Railways Act 1993 came into effect in 1994.
Meanwhile on 1 April 2015, the Scottish Government awarded the contract to run ScotRail to Abellio, the Dutch state-owned company run by Nederlandse Spoorwegen, which has continued to perform poorly over the last five years. After voting against breaking Abellio's contract on two occasions (November 2018 and October 2019) on 18 December 2019, the Minister for Transport Michael Matheson MSP, finally announced that he would end Abellio's contract three years' early (on 31 March 2022).
On 1 April 2020, we re-launched this campaign to demand that a public sector operator is ready to take over running ScotRail by 2022. Working alongside the new publicly-owned or publicly-controlled buses permitted in the Transport (Scotland) Act 2019, a publicly-owned ScotRail will finally give us the opportunity to create the fully-integrated, efficient and affordable public transport system we need to provide a real green alternative to car travel for us all.
This petition is supported by:
https://www.bringbackbritishrail.org/images/MakeScotRailPublic_supporters.png
To add your organisation to this list, please use the 'Contact User' button above.