To:

Chairman, Dorset County Hospital
Save Dorchester Hospital Pathology Lab
08/10/14 - At a meeting on Wednesday morning Dorset County Hospital's board decided in favour of a recommendation from experts to keep the threatened pathology service and commit an additional £100,000 to the facility.
For more details please read Dorset Echo's article: http://bit.ly/1ED7j4Y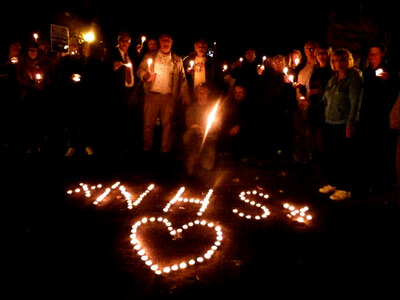 We as Dorset residents wish to keep our NHS services local and publicly owned and managed. It is a major concern that our hospital's Pathology Department at Dorset County Hospital in Dorchester may be sold off and moved away from our county.
We call upon the responsible health bodies to respect the wishes of local people and to retain our Pathology services at DCH.
Why is this important?
We fear that privatisation could critically endanger the quality of Dorset County Hospital's pathology service and put patients at risk. We have been fighting an intense campaign against this privatisation in many different modes. Town centre petitioning events have provided 8000 signatures on paper. We need your help to lift this number as the campaign enters is last stage, so as to show the hospital the the Dorset public say NO to their important pathology laboratory being sold off.
Where pathology labs were privatised elsewhere there were quality problems seen in the ensuing services and eventually financial problems had to be corrected. Where finance becomes tight then there is a temptation to cut corners.
Over 100 people work at the Dorset County Hospital Pathology Laboratory, carrying out tests whose results guide the treatment of patients throughout a good part of Dorset and its surroundings. Private companies have been invited to bid to deliver this service in place of the existing NHS Pathology Laboratory.
Should the service be moved away from Dorchester, there would no longer be the possibility of carrying out rapid on-site testing for patients in danger at the Dorchester hospital; moreover consultants would lose the valuable ability for close cooperation with the expert testers in cases of difficult diagnosis.
The users of Dorchester Hospital Pathology Lab have no complaints about the service. It was being developed as a centre of excellence for cancer testing.
The Dorset Health Campaign group was formed in late 2012 as a result of the 38 Degrees NHS privatisation campaign.
How it will be delivered
A petition with 10,000 signatures was delivered to the chairman of the hospital prior to a hospital board meeting on 10 September. We now have over 11,000 signatures. Details of the extra 1000+ petitioners will be handed in at the hospital board meeting on Wednesday 8 October. Prior to the board meeting there will be a demonstration in front of the board room building (children's centre) from 08.50 to 09.30.