To:

Matt Hancock, Secretary of State for Health and Social Care and Priti Patel, Home Secretary
SIGN NOW: Everyone has a right to safely access healthcare in the UK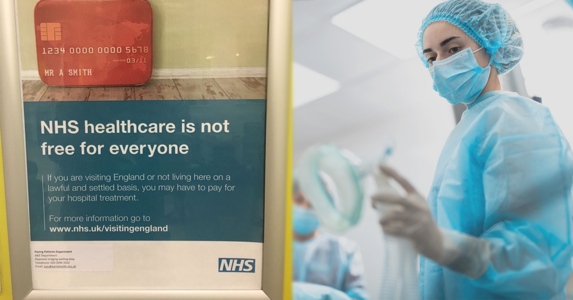 The government should urgently end the Hostile Environment and make the the NHS safe and free for everyone, by:
1. Stopping all NHS charges for migrants, so no one is left to pay unaffordable fees for medical care.
2. Ending all data sharing between the NHS and the Home Office, meaning that patient data will no longer be used for immigration enforcement.
3. Launching a public health campaign to ensure NHS staff and the public are aware of these changes.
Why is this important?
A man, known only as Elvis, who had lived in the UK for 10 years and worked as a cleaner, died at home of coronavirus, after having severe symptoms for two weeks. He did not seek help from the NHS because he was scared he'd be landed with a huge, unaffordable bill for his treatment, or that he would be reported to immigration authorities.
The Government's hostile immigration policies mean that many migrants are too afraid to access the NHS, even if they have coronavirus symptoms.
The NHS was founded on the principle of universal healthcare, that everyone could access for free, regardless of background, nationality, or ability to pay. The Hostile Environment means this is no longer the case.
No one should avoid healthcare because they are scared of the debt they'll incur, or that they'll be deported, especially not during a public health crisis like Covid-19.
The nature of coronavirus means that we are only as protected as the least protected amongst us. A recent report published by Migrants Organise, Medact, and the New Economics Foundation, told stories of many migrants avoiding accessing healthcare services during coronavirus because they fear being charged, or facing immigration enforcement. It clearly shows that adding Covid-19 to the list of conditions exempt from charging is not enough to ensure people can access care.
There is widespread and growing outrage over the policy. Seven health institutions in the UK, including the British Medical Association, 100 civil society organisations and community associations, and 60 MPs, have all demanded that the government ends NHS charging for migrants and data sharing with the Home Office.
It's time for everyone to join this call for the Government to take emergency action to end NHS charging and data sharing during the coronavirus crisis.
To defeat coronavirus we must stand together, support everyone in our communities, and ensure the NHS is free and safe for all who need it.
It is our NHS. It should treat #PatientsNotPassports.