To:

Melinda Tilley and Oxfordshire County Council
Save Oxfordshire's Children's Centres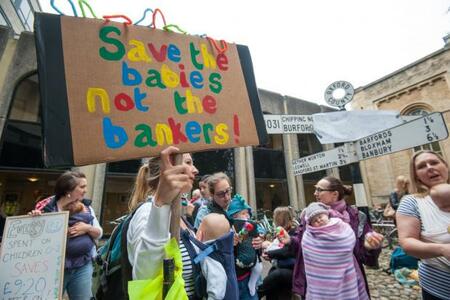 We call on Oxfordshire County Council not to close the county's 44 Children's Centres and maintain universal access to their vital services.
Our Children's Centres are a lifeline to new parents who rely on locally accessible advice and support at a time when it is most needed. Cutting these essential services would leave families vulnerable and isolated, and fail an entire generation of children.
Why is this important?
Oxfordshire County Council is proposing to shut down all 44 of the County's Children's Centres, and halve the current Early Years budget of £16m. Instead the council will replace them with just eight Children and Family Centres, which would only be accessible to the most vulnerable by referral.
Our well used and much loved centres in communities across Oxfordshire currently provide a wide range of early intervention support including parenting courses, support for postnatal depression and mental health, young parent groups, breastfeeding support, mobile libraries, maths and English classes for adults, midwife support, baby groups, health visitor drop-in clinics, Freedom programmes for victims of domestic abuse and much more.
If current proposals go ahead, most of this support would either disappear entirely or only be available to families who are already in difficulties. An end to universal provision of support for families of under-fives will only increase the stigma associated with seeking out help, and may put people off using these essential services at a time when they feel vulnerable and isolated.
It is a false economy to close Children's Centres. Universal access to the early intervention services they provide has numerous economic and other long-term benefits for the health and wellbeing of parents, children and the wider community.
The cuts will result in a higher workload for other health professionals (health visitors, GPs), higher future costs and an increased risk of postnatal difficulties (breastfeeding difficulties, postnatal depression) with potentially serious and long-term consequences for parents and babies.
We have started a community-led campaign asking the council to reconsider these plans urgently. The children's centres are well regarded, well established and their staff are highly experienced professionals. Many families across Oxfordshire can and do readily access support at a time when they need it most. The testimonies of families who have used the centres make it clear how much of a lifeline they are.
Together, we must protect them.
How it will be delivered
In person to Melinda Tilley, the Oxfordshire County Councillor responsible for Children's Services.