To:

Museum Directors & Trustees and the Department for Culture Media & Sport
Carillion shows privatisation isn't working: Bring Museum services back in-house!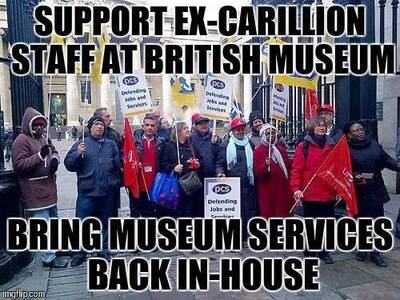 The recent collapse of giant multinational Carillion who provided support services to the British Museum proves right all those who have argued privatisation isn't working.
Millions of pounds of taxpayers' money has gone to shareholders and directors who are expected to bail them out when things go wrong. Our Museums, Galleries and other public services are put at risk and the workers who keep the services going come under attack.
Other public funded Museums and Galleries such as National Gallery, Tate and the Imperial War museum have moved to using huge private companies to provide an increasing range of services. This has led to attacks on job security, wages, terms and conditions as well as trade union rights.
Privatisation isn't working. It means a worse service for the public and worse conditions for staff. It is time for it to end and for all services to be brought back in house.
• We call on the British Museum Director Hartwig Fischer and the Trustees to end the limbo for their staff and to meet with the recognised trade union PCS and immediately bring ex Carillion works back in house.
• We also call on DCMS funded museums and galleries to start negotiations with PCS and other unions to bring all privatised services back into direct employment.
Why is this important?
Carillion was managing support services at the British Museum when they announced bankruptcy on 15 January.
Five years ago PCS members campaigned against outsourcing when directly employed staff were privatised and transferred to Carillion. Many have worked at the museum for over 20 years. Now they are being paid by the receivers and face an uncertain future. Under insolvency rules staff have no protection of their terms and conditions if they are transferred to another company. The Museum Director Hartwig Fischer has not even met with staff.
This threat is not limited to British Museum:
• The Imperial War Museum privatised its gallery services back in 2014. The private contractor Shield went bust in 2016 and was bought up by yet another private firm Noonan leaving staff unsure of the future of their pensions.
• The National Gallery privatised 400 workers back in 2015 despite a long-running campaign opposing it, made from striking employees, other culture unions and a number of art campaigners and lovers. Private company Securitas has refused to honour promises and has been less than cooperative with workers represented by PCS. Meanwhile the National Gallery itself has de-recognised the union arguing that most of its members were now working for Securitas.
• Some of Tate's visitor services were provided by privateer Wilson James who used Zero Hours contracts and paid their employees far less than Tate. PCS members won union recognition and parity of pay after their EqualiTate campaign. But in 2017 the contract was passed on to Securitas who immediately de-recognised the PCS union.
How it will be delivered